Attention: Brand NEW training course for cleaning companies
The Easiest Way to Get Top Ranking in Google and Get Cleaning Clients For Almost No Money
Take the Google Challenge! Type the service you provide (carpet cleaning, water damage, cleaning services) in Google's search along with your city name. If you're NOT coming up
in the top TEN

, you're missing out on FREE leads.
Here's how you can the MOST profitable advertising...





From The Desk Of: John Braun Date:
"Here's how it all happened..."

It was October 1997. That's when I built my first website for my brand new cleaning company.
Back then, hardly anyone was searching for cleaners on the web. Sure, we'd get a job every great once in a while, but a website wouldn't ever bring lots of clients—or so I thought.
By the year 2003, I noticed a steady incline in traffic and jobs from our website. And by 2006, it was obvious things were changing.
People were actually hiring cleaning companies from the internet—lots of people.
So in April 2007 I launched my crusade in telling cleaners to market their cleaning biz online.
That's when I gave a talk at Howard Partridge's Roundtable. I told them the internet was the NEW Yellow Pages. No joke, half of them looked at me with glazed over eyes.
"The internet? How are we gonna get clients from there?"
Everything changed quickly. Those who "got it" starting marketing online right away and have gotten more jobs from the internet each year with hardly any advertising cost.
Others were hesitant to do anything. They thought simply having a website was enough. Technophobia (fear of technology) cost those guys big time.

Everybody wants to rank in the top ten of Google. The search for carpet cleaners on Google in some large cities exceeds 5,000 searches EACH MONTH!
People are "Googling" local cleaning companies as often as they are looking us up in the Yellow Pages. And the numbers are growing.
Getting found on Google is FREE. But you have to know the right tricks to get there.
Some cleaning companies are paying SEO pros thousands of dollars each month to get ranked. But with my new program, you can easily learn to get ranked all by yourself.
Why You Should Believe Me
Here's a screen capture of how my sites rank #1 in Google for FREE…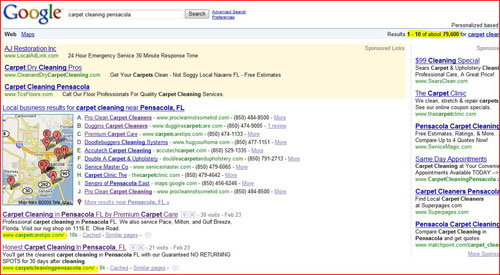 Not only do we rank in the #1 slot for Google and Yahoo, but typically, my company takes up 5 of the top 10 slots in Google. As well, I've helped hundreds of cleaning companies get top rankings for their site.
The websites I've worked with have knocked down sites that have been ranked #1 for years. This kind of stuff really irritates the competition.
Here's What Some of My Clients Say...
What can you do to take advantage of getting clients online?
The sad thing is, paying an SEO company never guarantees you'll get ranked. I've seen too many cleaning companies get ripped off.
The other option is to do your SEO yourself. But where do you start? SEO can be VERY time consuming if it's not done properly. You want to make sure the time you spend working on your SEO is rewarding.
You can learn just a few simple tricks and tips to get your site ranking on top of Google.
I've made it easy for you.
There's no need to be afraid to do this. It's super simple once I show you how. I HATE overcomplicating things—especially the internet. I'll keep everything simple for you.
Here's What You'll Discover...
Is it possible to get a #1 Google Ranking in as little as 21 days for FREE?

How to optimize the keywords on your website or blog so Google ranks you

The best websites to get incoming links for better ranking

4 vital places to put your keywords—this alone may make or break your ranking

How to get Google to recognize your website as the top site in your city.

Spanking new SEO plan reveals 19 new key sites that once you're listed, Google shows you LOTS of love!

THE TRUTH ABOUT SEO that an SEO pro never tells you (it's easier than you'd think)

How SEO pros get their clients ranked high—I'll show you exactly how it's done

Is your site blacklisted by Google? The quick way you can find out

The single most important phrase to put on your website. It gives you credibility with prospects and brownie points in the eyes of Google

Learn 5 specific ranking strategies nearly every top ranked cleaning website uses! Get Instant Access!"

If you want to rank quickly, don't just exchange links with tons of websites. New Google studies show a new method that is three times as effective!

Know when exchanging links may actually hurt your site ranking

How to use Twitter to find potential clients in your city

PLUS-- How to turn your site into a better than pay-per-click, FREE SEO ranking machine that doesn't cost a dime!

The "Get on Top of Google" Course Outline

Dozens of videos to walk you through the process of high ranking and getting clients online. New videos are added each week.

SEO Manual For Cleaning Companies to show you all the best ways to do optimization for your cleaning website.

Reports and course handouts you can follow along with for those who learn better by reading.

Question and answer webinars where you can get ALL your questions answered. There will be at LEAST 4 of these in the next couple months.

Lifetime alumni status for you! Your one time registration will allow you to come back to all of the future "Get on Top of Google" webinars and course material.

So Here's the Program Details...

Register right now and you'll immediately gain access to the members' area. This is a password protected website where you get all the course materials.

Here you'll be able to start watching all the training videos and reading all the reports. Once a week for the next 4 weeks I'll be uploading more new training materials based on your questions.

In addition, we'll be holding LIVE Question and Answer Webinars. Hop on these webinars to get the answers to all your questions. You'll watch my screen as I instruct you. I've found this to be an excellent way to learn.

Lifetime Alumni Status (come back every time the "Get on Top of Google" program is offered, and get all the latest updates completely FREE!) Because you've already become a student, you can attend the class over and over again at...NO ADDITIONAL CHARGE.

When you find yourself searching Google…checking out your competition… wouldn't YOU like to be the company that takes top place? Or better yet, wouldn't you like to take 2, 3, or 4 of the top ten? I really want to show you how.

You can sign up right away. Just click here.


Here's What Current Class Members Have to Say...
"Thanks John. I followed some of the advice you gave in the Get on Top of Google class and it took my website from #8 in Google to #1 on Google in my city. I'm glad I got in this course."
Ron Holt, Two Maids and a Mop
Serving Alabama and Florida
"I've got to tell you I am absolutely thrilled with the content of your classes and open sharing of your extensive experience on the internet with your students, as well as the great handouts & video. Looking forward to the remainder of your classes. I am confident the knowledge I have gained from your instruction will be worth many times over the modest enrollment fee."
Jim Fox, Dirt Busters
October 27, 2009
"We met and got to know John a couple of years ago when we were actively participating with Howard Partridge and the Knights and Inner Circle groups.
John designed a new website, CarpetCleaningAthens.com, for our company back in 2008 and we have been very happy with the results. We receive approximately 3 inquiries daily from the link on the website and have had several comments recently that it was very helpful and informative.
We also use several of John's newspaper articles. We rotate them weekly in our local newspaper, and have been pleased with the response from them as well.
We are very happy with the work that John has done for our company and would definitely recommend his services."
Best regards,
Joey & Janet Conglose
Owners
Certified Clean Care
"I've been attending your search engine optimization class and it has been a treasure trove of information. I've implemented a great deal of what you have taught and I am listing much better in Google already. Thank you for your quick responses to my questions and I appreciate the quick way you put all the class materials up on the web so I can go thru the class again at my leisure. I look forward to signing up for more classes with the Hitman."
Thomas Dunne, Dunne Cleaning Specialists Inc.

What the So-Called "Experts" Won't Tell You


This isn't some advanced internet marketing "get rich quick" program. You've seen these before online and on television. You may have even tried a few of them out. I have too. But frankly, most of it didn't apply to a carpet cleaning company.
I'll show you what works on the net for a local cleaning business.
The internet is hands down the best return on your advertising dollar. The return can be as great as 60-to-1.
That's $3,000 for a measly $50 spent on advertising.
More of What You'll Learn...
What you need to know about Google's NEW "personalized" searches--this could have a major impact in the way web searches are done in 2010!

How to set up link exchanges so Google doesn't punish your ranking!

When having too many incoming links to your site is bad. See the best plan.

3 out of 4 SEO pros don't know the keywords your prospects use to find cleaners.

Learn the right keywords so you do better SEO than some "Pros"!

The truth about how Google ranks a local website

33 places to get quality incoming links to your website for FREE

Boost your site ranking- in just weeks with this short cut

Can ugly, low or no budget videos bring more jobs and rank you higher? Yes they can if you follow these guidelines

12 point checklist to assure your website has every chance of getting you the job

Why you must show you're a local company and the best ways to do it

Two questions you need to answer within the first 5 seconds when a prospect visits your site

How I doubled my conversion ratio when I added this little idea I'll share

Most common website mistakes- and how to avoid them. It's on video 3

Converting leads to sales with my proven "conversion strategy"

The secret of getting listed on Google more than once!

What you must do immediately to start your SEO or you're sure to fail

Getting hundreds of links will rank you #1, right? Wrong! Some links can actually harm your site reputation

WARNING: Avoid these two phrases. They can trigger a Google "audit"

The amazing offer that doubled my response rate

Google accounted for 64% of searches in 2009. But did you know it's possible to get ranked on Bing, Yahoo, and the others as well?

If you live in a small city with 2,000-5,000 homes, here's a idea that'll quickly get you referrals online

When it's safe to STOP doing SEO on your site and keep your ranking!

And much, much more (you basically will know everything I know about SEO)...
"John, Just wanted to say thank you.. You are doing great stuff for us in your class.. To date: Have had one article written, created a Ezinearticle account, haven't posted yet, created a blog, set up some adword ads, and last night pasted in Google analytics code into my web page… "
Mike Rauscher, Spic and Span Cleaning
"John, I just wanted you to know that I am doing my first website generated job today. It's a $615.00 job. On Yahoo when I look up carpet cleaning Bakersfield I am on the top of the list. That feels good! Thanks."
Eric Kidwell, Kidwell Brother Carpet Cleaning
"Your Internet Training Class is an exellent investment and an awesome way to promote your website for higher search optimization. The class is worth every penny I invested which is really not a whole lot. You don't have to be a so-called computer expert to understand the material being taught. this class is geared for the non-computer geeks, every weekly module that you teach us is easy to comprehend and implement."
Mike Cardenas, My Steam Cleaner, Inc.
Saves You Time and Money!
Here's the deal…all the training is taken from the perspective of a cleaning company. Sure, you could go buy an SEO report online for $297, $97 or maybe even as low as $27.
But then you've got to sift and soft through the information and see what works and what doesn't work for cleaning companies. Not long ago, I bought a "super-duper" internet marketing package that cost $1,997. And only a small fraction of what was in that program applied to what a local cleaning company needs to know.
I take out all your guesswork and time-consuming trial and error. I've had a direct hand in personally helping hundreds of cleaning companies with their websites. I know what works and what doesn't work better than anyone.
Order now by clicking here.
Use it Risk-FREE For 30 Days!
That's right. If you are not 100% satisfied with my Get on Top of Google Training for any reason ... just let me know within 30 days.
I'll refund your payment in full. No questions asked. And you can keep any of the PDF reports you've downloaded from the course. That way, you risk nothing.
Get on Top of Google DOUBLE TIME Guarantee
Now let me be honest, simply purchasing this training series won't put you multiple rankings in the search engines. You'll need to put into action some of the things I teach. But it's easy. If you can check email, you can do the stuff I show you.
But just so you know you're purchasing the best internet training for cleaners, I want to make a special guarantee…If you show me you've applied even a few of the things I've taught in this course and haven't made it to at least two rankings, I'll DOUBLE the money you spent on this course and allow you to apply it toward having me personally do our Full Service SEO work where I do it all for you.
How's that? If it doesn't work when you do it, I'll do it for you.
In the next 1 to 4 months, you could, like me, be ranking high and enjoying telephone and email leads for FREE.
Killer Bonus

If You Register NOW!


SEO Training Videos from the first Internet Marketing Class- You'll also instantly get the videos from the first class to watch at your leisure ($97 value).


Register Right Now
At This ONE TIME Introductory Price

$297 Special Price
* Register now, get all the videos, reports, and handouts
and attend all the SEO webinars at NO EXTRA CHARGE!

Until Later,
John Braun
Ad Hitman
P.S. Register now and you get all the videos, plus killer tips on how to make your website convert more "lurkers" into buyers.
P.P.S. If you're currently doing your SEO yourself or thinking of hiring an SEO company in the future, you NEED this course. Educate yourself on all the ins and outs. And if all else fails, you've got my TRIPLE TIME GUARANTEE. You can triple the money spent on this course and apply it toward Full Service SEO by the Hitman any time. Take action NOW!
Your one time registration gets you into ALL the future updates as well as any of the future "Get on Top of Google" Webinars.

"NO ONE has better skills at SEO than John and his willingness to help you succeed at marketing in general makes him an indispensable coach."
Jesse Moon, The Noble House
"John, I wanted to thank you for all your help with the site and the assistance with the links and everything else you have done. I know you went over and beyond in helping me and from one business owner to another Thank You." #1 in Google "Carpet Cleaning Paradise Valley" #3 and #4 for "Carpet Cleaning Anthem"
Rick Lane, Fresh Start Carpet Care
"John has been a great addition to our team. He set up our websites and does great SEO work that keeps us in the eye of our customer base. I highly recommend John to any other business people who are considering him for consulting services."
Ed Dillon, All Phase Carpet and Upholstery
"Hey John Braun, All I can say is WOW! Your link exchange really DOES work! I too was skeptical, but man was I wrong. My search engine standings have improved tenfold, and the phone is ringing. Glad I decided to sign up. Thanks again. You ARE the man!"

Dominick Cassano, Magic Carpet Express
Click Here to Order













Terms of Service | Privacy Policy